Upcoming Classes and Workshops
Winter/Spring 2018 Stained Glass Classes – 6 weeks – Monday mornings 9:30-11:30am          Starts October 2018
Winter/Spring 2018 Stained Glass Classes – 6 weeks – Monday evenings 7-9pm           Starts October 2018
Stained Glass Saturday – 1 day Workshop – Saturday to be announced
Lead Came Basics – 1 day – Saturday to be announced
Mosaic – 1 day – Saturday  to be announced
Lynette Richards has been teaching for over 20 years!
Lynette cofounded the London Ontario Stained Glass Guild with Ted Goodden in 2009.
Lynette teaches in her studio on the shores of beautiful Terence Bay, and can offer workshops in your community.
Call or email to set a time and place!
Student Work
The pictures below are all student work, many designed by them, some from pre-existing patterns. Whatever you can imagine, you can make!!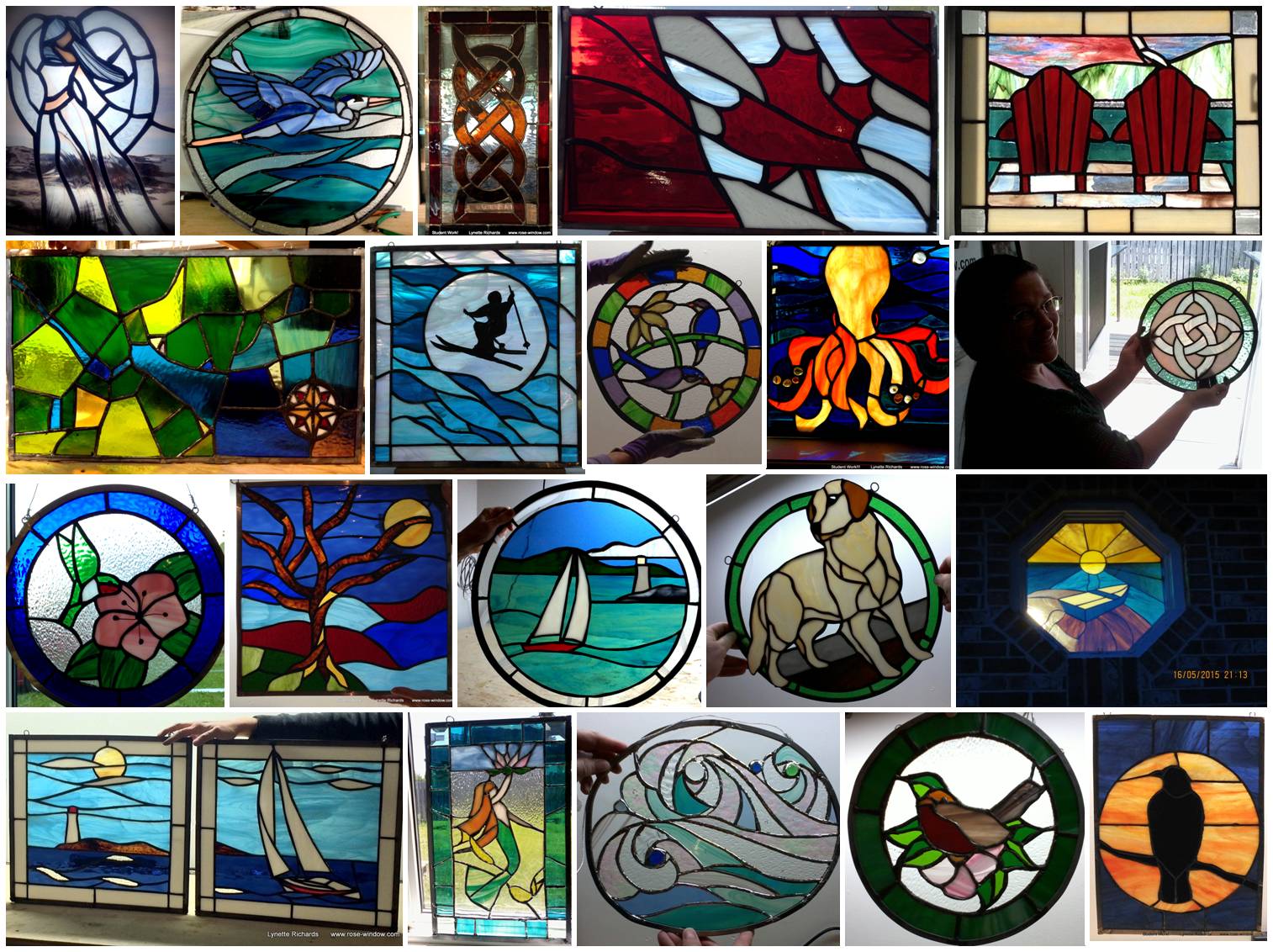 Stained Glass Patterns
There are many ready-made patterns to choose from in Lynette's studio and many online. Patterns sourced online may have copyright, and free stained glass patterns may need significant adjustments which Lynette will help you with. If you'd like to make your own stained glass pattern Lynette will help you create a pattern that is just right for you!!
About Stained Glass Classes
Fall, Winter and Spring Classes begin every 6 weeks or so. Classes run for 6 mornings from 9:30-11:30 OR 6 evenings from 7-9pm.
There are never more than 6 people in any class so you will receive excellent instruction. All skill levels are welcome in all classes. You may work on whatever project you wish if size permits. All tools are provided.
You will learn how to cut glass and stick the pieces together by making a suncatcher in the very FIRST CLASS! Next you will select a pattern within your skill level, and for the remaining 5 classes you will create it! By the end of the series you will take the completed project home to hang or give as a gift!
$150 +HST +materials
Materials typically cost $50 available from local retailers. You will receive a materials list and list of retailers at your first class.
Classes and Workshops year round!
Rose Window Stained Glass
731 Terence Bay Road, Terence Bay, Nova Scotia
902-402-3104
lynette@rose-window.com