Conservation of our Heritage Stained Glass
Protecting our Heritage is a responsibility and a privilege.  Conservation is a gift we give to the past and the future.
Architectural Stained Glass
Canada has a rich history of architectural Stained Glass. Much of our earliest stained glass was imported from Europe during the vibrant Arts and Crafts Movement. Much was also manufactured in Canada and the USA. Canada uniquely blends the relatively  new 100 year old American style and the 1000 year old European lineage.  Regardless of origin, our stained glass heritage needs maintenance, timely repair or restoration, or it will be lost. Contact Lynette for a free estimate for Stained Glass Repair, Stained Glass Restoration, and Stained Glass Replication.
Decorative Glass is an integral part of architecture.  Different eras and styles require appropriate glass design.
20 years ago, Lynette Richards completed a rigorous apprenticeship with a European Master Glazier in Canada during which she was immersed in Medieval, Renaissance, Pre Raphaelite, American and contemporary methods. This, in combination with her keen interest in Architecture, Design, Art History, and 20 years professional experience makes her uniquely qualified to care for your Stained Glass.
She has restored literally hundreds of home and church windows from Canada, USA, France and Germany using the most current Restoration guidelines.
Gallery
Reproduction of Lost Stained Glass
No problem! Your new windows will look authentic and use architectural quality materials and professional construction methods!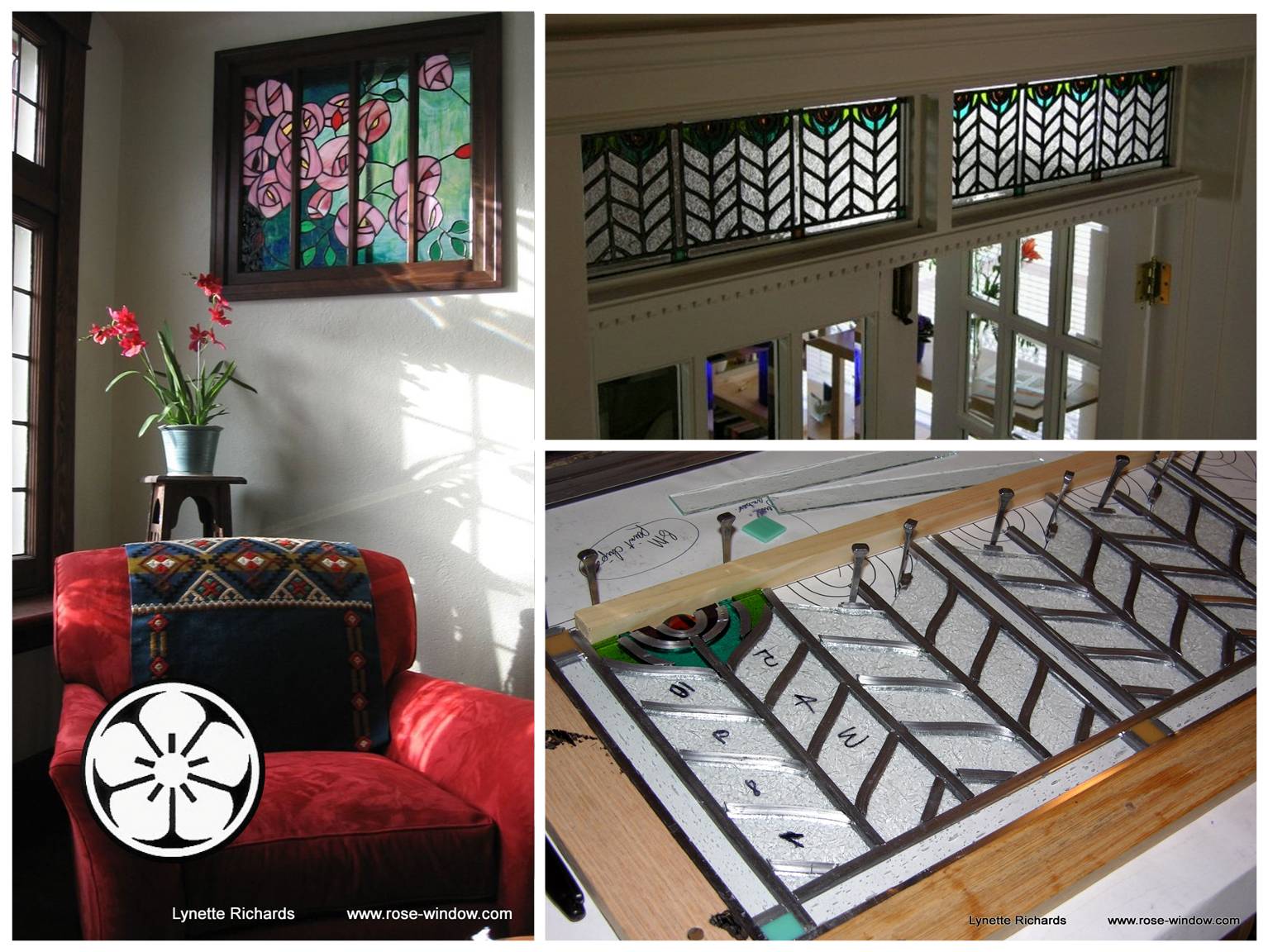 Church Windows
Restoration of the Basilica of Our Lady Immaculate, Guelph ON

Gallery
How do I know my window should be repaired?
Stained Glass windows need to be restored every 100 years or so. The oil-based putty crumbles to dust, the lead strips (cames) between each piece of glass begin to weaken, the solder joints crack. The windows begin to sag out of their frames, eventually causing stress fractures in the glass.  Stained glass windows should not rattle. They should be perfectly plumb, not bowed and no light should be visible around the pieces of glass.
How are stained glass windows restored?
Your window will be removed from the architecture and laid gently on a flat workbench to rest. It will be photographed and a pattern will be made. Damage will be indicated on the pattern, and decisions will be made regarding repair of broken glass, extent of necessary releading and  reinforcement. Restorers carefully dismantle your window, gently clean each piece of glass, re-lead and re-putty the whole thing in the same manner that it was originally made. This process completely renews your stained glass windows.
I want to install new high efficiency windows? Can I keep my stained glass?
Yes. This is a great time to repair or restore your stained glass! Old stained glass can be fitted to new replacement windows with consultation with the window manufacturer, or if necessary the stained glass can be framed to hang in front of the new windows.
What if the stained glass is missing from my home?
Lynette Richards has reproduced many missing windows. If any windows remain they are useful as reference. If not, other architectural details can guide us. The style and age of your home and the neighbourhood also provide great information. Lynette has an extensive library of historical glass books for reference. Never a problem!
Should I choose the lowest quote?
Restoration and repair work is priced using the Time Plus Materials method. Lynette Richards is a Master Artisan who delivers exceptional skill per hour and knows what types of glass and lead are traditional to your architecture's style. As with every professional building trade, prices are flexible depending on quality of materials and complexity of labour. Lynette will show you options within your budget without sacrificing the professional quality of your window!  She honours her estimates and will involve you throughout the process. Her work is guaranteed. There will be no surprises.
Good for another 100 years!